An extract from a new historical adventure story – Grim Gruesome Viking Villain, The Cursed Sword by Rosalind Kerven – complete with strange runes, daring adventures, bloodthirsty pirates and a mysterious fortune-teller.
These teachers' notes accompany the PRINT ONLY guided reading leaflet in Literacy Time PLUS Ages 5 to 7 November 2008.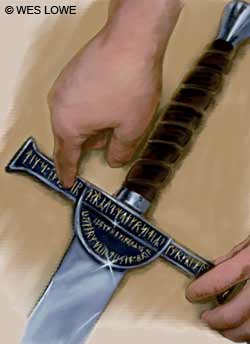 Before reading
Briefly explain the context of the extract. Analyse the title. What does it infer about the genre, setting and likely subject of the story? Point out that Grim Gruesome Viking Villain is an example of alliteration.
Establish which kind of books the children like – historical, adventure, mystery? Ask for reasons for opinions. List elements that we might expect to find in this genre – eg, sorcery, suspense, evil villain, brave hero.
Which other stories include a special sword (eg, King Arthur's Excalibur, Peter's sword in Narnia, Gryffindor's Sword in Harry Potter)?
Explore vocabulary relating to parts of a sword – eg, hilt, blade, scabbard.
Log in to your account to read