This poster provides information about the Welsh town of Llanelli including its history, key events and recent redevelopment. For additional information, download the online PDF and click on the highlighted words.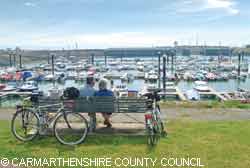 Shared learning and teaching
Shared reading
Read the text then discuss the type of town Llanelli is. How is it different to the place they live? Are any areas similar?
Discuss the text features. What type of text is it? How does it compare to other texts they have read?
Talk about the quotations from visitors to the area. Why did they describe Llanelli in this way?
Log in to your account to read
Reviews