This poster explains how our bodies react to extreme cold conditions and gives instructions for how to survive in the cold. The text would tie-in with a science topic on keeping warm and insulation.
It also makes a perfect partner to Brett Dillingham's traditional Alaskan tale, told in Leaflet 1, and complements the snowy shape poem on Poster 2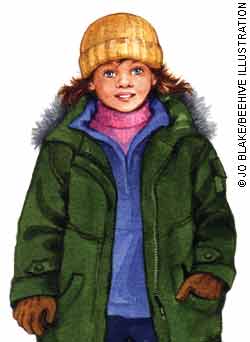 Shared teaching and learning
Before reading
What do the children know about keeping warm in cold conditions? Do they know why we shiver and which part of our body loses the most heat? Discuss what an insulator is.
Watch extracts from television programmes that tell how individuals have survived in extreme weather conditions and offer advice to the viewer – eg, by Ray Mears or Bear Grylls.
Previous learning
Log in to your account to read