Kennford Playbox, a pre-school nursery in Devon, is the lucky owner of a Promethean interactive whiteboard system and software, after winning Nursery Education PLUS' fantastic competition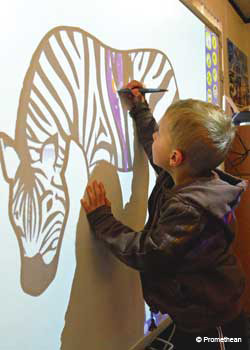 When nursery manager, Michele Berry entered Nursery Education PLUS' whiteboard competition, Kennford Playbox was in the process of moving to a new purpose-built facility, so the thought of winning an interactive whiteboard was an exciting prospect for everyone.
Since the Activboard+2 was installed at the nursery, the interactive whiteboard has quickly become an integral part of everyday learning. 'We couldn't live without it now we've got it,' said Dawn Whitton, Deputy Manager. 'From storytelling to mark-making exercises, the Activboard+2 has facilitated a range of engaging and stimulating activities'.
Making its mark
The Activboard+2 is a digital interactive whiteboard that is controlled by a battery-free pen. This means that for drawing and mark-making activities, the child simply writes on the board as they would with a pencil and paper. As Kennford Playbox has learned, this capability has a significant impact on young learners. Michele said, 'The under-threes in the nursery have been particularly keen to use the Activboard+2 and Activprimary for drawing and mark-making, rather than the traditional computer and mouse. As well as finding this method easier to cope with, and more engaging, they are rewarded by the ability to see the result of their action immediately'.
Log in to your account to read