Plan your own fun Olympics.
Why not hold your own 'fun Olympics' in the new school year? Remember the spirit of the real Olympics is underpinned by international cooperation and peace. Try and build these values into your activities as you plan.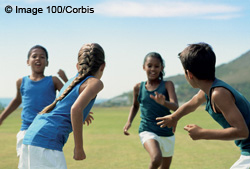 There is a lot to consider when planning such a momentous event. First, you need to enthuse and involve the children by giving them as much information as you can about the Olympics (visit the official website). Make a big display headed by the title 'What we know about the Olympics', and put up images of individual participants, leaflets and posters.
Planning your event
You will need to consider the following questions:
When will the event happen? Will there be timetabling issues for the use of outdoor space?
Will it happen on one day only or over a week(s) during PE sessions?
How will you record scores and choose the winning team?
Will you have an opening ceremony? Will you invite anyone to watch?
How will you select teams so that everyone feels included?
What activities will you run? Who will help?
What will you do if it rains? Will you arrange to hold the event inside or have an alternative date planned?
Log in to your account to read