This fairy tale is a retelling of the French tale The Fairies first written down by Charles Perrault over 300 years ago. It provides a rich array of vocabulary and story language and offers plenty of opportunities for children to make comparisons to other familiar fairy tales, use inferences and to empathise with the characters.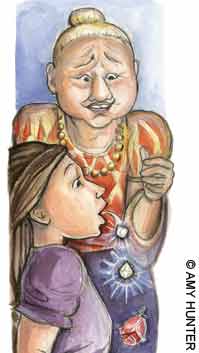 These teachers' notes accompany the PRINT ONLY guided reading leaflet in Literacy Time PLUS Ages 7 to 9 July 2008.
Before reading
Working in pairs, give the children two minutes to tell each other everything they know about fairy tales.
List some of the key features of a fairy tale. Focus on the language patterns and structures often used.
List fairy tales the children know.
As the children read, and depending on the areas they need to develop, ask them to look out for:

new and interesting words and phrases, such as powerful verbs and adjectives (eg, 'dazzling diamonds spilled out of her mouth, gleaming and glittering');
the use of language to signal time and move the story forward or give the reader insights (eg, 'One day,' 'Now this old woman');
words or phrases that indicate the characters' relationships or feelings about one another (eg, adored, scarcely stand the sight, made her slave away, girl's warm heart). Record these on the activity sheet.
Log in to your account to read
Reviews