Find out about the background and celebrations involved in the festival of Pesach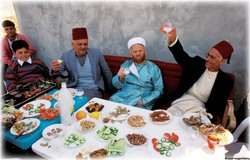 What is Pesach?
Pesach, or Passover, is the oldest and greatest Jewish festival. Essentially a spring time, family festival, lasting seven or eight days, it is central to Jewish identity and faith. It takes place on the 15th day of the Jewish month Nissan (between 15 March and 30 April). While it marks the beginning of the harvest, this is of less importance than the history that is the focus of the celebrations. The festival ceremonies recall the exodus of the Israelites from Egypt and symbolise the struggle of the Jewish people to be released from bondage, to find their own land and to find freedom.
The origins of Pesach
It is likely that the origin of the festival of Pesach lies in two harvest festivals, celebrated prior to the exodus. Following lambing time, shepherding families observed a festival of thanksgiving and sacrificed a lamb, offering to God something that was of great value to them. After the sacrifice, at nightfall, the lamb was roasted and shared with everyone present. Certain rituals were adhered to – blood from the lamb was painted on to the tent posts as a protection against bad luck, none of the bones of the animal were broken and all the meat was eaten before sunrise.
Other Jewish farmers also celebrated in the spring, but their thanksgiving was at the beginning of the barley harvest. All dough used as a bread base, a bit like yeast, was destroyed and the houses cleaned in preparation for the new harvest which was about to be gathered. The first sheaf was offered to God.
The Book of Exodus in the Christian Old Testament describes how the Jews became slaves, and tells of their sufferings in Egypt. These culminated in an escape led by Moses. Chapter 12 describes the first Passover from which today's celebrations have evolved. There is a bringing together of elements from the agricultural harvest festivals interpreted in the light of the exodus itself – for example, the inclusion of the hurriedly made unleavened bread (a symbol of the Israelites' rush to escape from Egypt) and the marking of the doorways with blood.
Subscriber-only content
Scholastic Resource Bank: Early Years - subscribe today!
Over 2,000 early years resources, activity ideas and games
Perfect for anyone working or playing with children from 0 to 5 years old
Unlimited access – only £15 per year!
Subscribe
Already a subscriber? Sign in below.