Add a splash of colour to your classroom by experimenting with paints
It only takes a few minutes to teach a child the basics of how to paint – yet artists have spent lifetimes exploring the potential of this wonderful medium. What is it that makes painting such a central feature of the curriculum for art and design?
Through making paintings children can express their ideas, feelings and perceptions of the world around them, as well as share their visual experiences and express their imagination. A painting lesson can provide children with strategies for controlling brushes and paint, and to experiment with a range of ways of applying paint to paper. Above all, painting allows children to develop their understanding and appreciation of colour.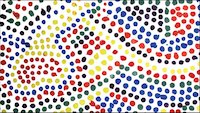 Paint systems
There are three different types of paints used in primary schools – powder colour, ready mixed and watercolour blocks, and each has its advantages and disadvantages. Mixing powder colours with water encourages children to refl ect on how thick or thin they want their paint to be. Yet they require a little more patience than ready-mixed paints, which are easy to use – although children have a habit of using them straight from the tube. Beautiful effects can be achieved with watercolour blocks, but they need to be looked after if their colours are not to become muddied.
Primary colour
Red, yellow and blue are the three primary colours (they can't be mixed from other colours); orange, purple and green are the three secondary colours. A secondary colour is mixed from two primaries; each primary has a complementary colour, which is mixed from the other two primaries – for example, orange is the complementary of blue. (Note: 'complementary' doesn't mean the two colours look good together!) Most schools use the 'double primary' system of colours (see diagram), which offers children the opportunity to reflect on the contrast between a warm orange-red, such as vermilion, and a cold purple-red, like crimson. Children enjoy learning the language of colour – the way we describe the similarities and differences between them.
Subscriber-only content
Scholastic Resource Bank: Primary - subscribe today!
Over 6,000 primary activities, lesson ideas and resources
Perfect for anyone working with children from 5 to 11 years old
Unlimited access – only £15 per year!
Subscribe
Already a subscriber? Sign in below.