Kick-start World Cup celebrations with Paul Cookson's performance poetry ideas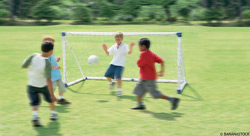 The World Cup is upon us, so how do you capture your class' imagination and attention when they'd rather be on the pitch? Use performance poetry to get them thinking about something they enjoy and creating something educational, too!
You can make a performance poem out of a few words. They don't have to make sense, they don't have to tell a story, it's not what they look like – it's what they sound like when they are read out loud.
It is based on sounds, rhythms, repetition, actions, sound effects, repetition, beat, expression and repetition. I guarantee that if you start to say words aloud in a call-and response way with your class, you will soon get the feel of the words – you and they will both know what sounds right and what doesn't, what fits and what needs changing – they will start talking about beats and rhythms, and their confi dence will grow in no time.
Below is an activity idea to create a class performance poem based on the World Cup. However, the format to creating such a poem isn't subject specific and will work with other sports and subjects.
Kick off!
Start by asking the class to say some of the words displayed on your walls out loud. Get them to repeat them. Exaggerate the rhythms and syllables… cheat to make them fit!
Now introduce the idea that you are going to create a football performance poem. If it's a nice day, take the class outside so they've got space to think and perform. Start with a phrase like 'No way referee!' or 'What a load of rubbish!' or 'We are the champions!' (you could take a flipchart outside to write on or use your whiteboard if indoors). Then chant it a few times as a class, like a football crowd, to get the feel of it. Next, get your class to add extra lines to explain why the referee has got it wrong, why that was a load of rubbish, why they are the champions. I'll take 'No way referee!' as a starting point. You could end up with a phrase like:

No way referee



  


    
      Subscriber-only content
  



  


      

Scholastic Resource Bank: Primary - subscribe today!





  
Over 6,000 primary activities, lesson ideas and resources

  
Perfect for anyone working with children from 5 to 11 years old

  
Unlimited access – only £15 per year!





      Subscribe

      


          

Already a subscriber? Sign in below.