Develop spatial thinking skills with these creative hands-on activities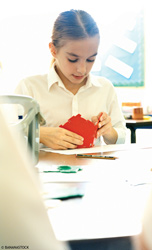 ACTIVITIES

Ages 7-9

Learning objectives: to classify, describe and visualise 2D shapes; to make, describe, explore and visualise shapes and patterns.
Think and talk Tell the children to 'imagine a large yellow square. Imagine a small, blue right-angled triangle inside the square. Push triangle so that its right angle fits into a corner of the square. Now draw the yellow shape that is left. Compare your shape with the rest of your group. What are the names of the shapes you have drawn? How do you know?' Discuss the possible imaginings and draw them on the whiteboard, encouraging the children to justify their reasoning using the correct language of the properties of shapes – triangle, pentagon, quadrilateral, number of sides/angles, regular/irregular, and so on.
Work it out Children should work in pairs, facing each other across the table with a barrier between them, preventing one from seeing what the other one is doing. One child from each pair makes a 3D shape by fitting together six differentcoloured interlocking cubes. They then describe the position of the cubes to enable their partner to replicate the shape. Encourage the use of correct language – position, above, below, side, between, beside, opposite, left, right. When complete, children should check for accuracy. Repeat with the pairs changing roles. (Differentiate the activity by giving pairs more or fewer cubes.)
Check it out Discuss the activities with the whole group. How hard was it to visualise the shapes? What was important about the instructions that helped them to decide where the cubes were in relation to one another? Have prepared a 3D shape using eight cubes. Use the suggestions to guide your instructions as the children work in pairs to replicate your shape.
Subscriber-only content
Scholastic Resource Bank: Primary - subscribe today!
Over 6,000 primary activities, lesson ideas and resources
Perfect for anyone working with children from 5 to 11 years old
Unlimited access – only £15 per year!
Subscribe
Already a subscriber? Sign in below.