Favourite books — The day I swapped my dad for two goldfish
4 March 2008
Add to My Folder
A boy decides to exchange his boring, newspaper-reading dad for two goldfish. Seems like a fair swap… doesn't it?
I have been a fan of Dave McKean and Neil Gaiman since I spent most evenings drawing comic books on the floor of my parents' lounge. These guys made their names producing beautiful graphic novels for 'adults', before they tried their hand at a picture book for children. In The day I swapped my dad for two goldfish (Bloomsbury, ISBN 0747575185), McKean successfully translates his renowned dark style for the eyes of children, creating a world that is ordinary yet not quite the one we know. A world where parents can be swapped for goldfish without anyone batting an eye. A world full of rich texture, crackling flame-like warmth and deep painterly darkness. A world to tickle any child's imagination.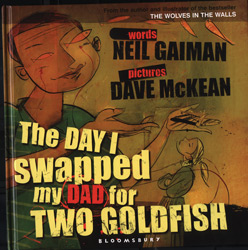 Synopsis
The story is a simple one. A young boy swaps his boring, paper-reading dad for two lovely goldfish. When his mother returns home and his little sister blabs, the pair are ordered to go and retrieve their father. Unfortunately, he's already been re-swapped – and so a chain of children and bizarre swaps is followed to track down the missing dad.
The joy of this book, aside from the wonderful images, is in the way McKean and Gaiman bring warmth and realism to the relationships between the boy and his friends and with his little sister. It's a beautiful love/hate relationship, which many children will immediately recognise. Gaimen himself actually includes an afterward detailing the story's origins in his own family.
Log in to your account to read