The beauty of art is that it needn't be permanent. Capture the changing seasons to create something pure Goldsworthy.
Contemporary British artist, Andy Goldsworthy, uses and responds to natural materials and surroundings to create art forms. He works mostly outdoors throughout the different seasons of the year, using materials such as leaves, wood, clay, ice and stones. As his artwork is ephemeral, he photographs it before it is changed by the elements. Examples of the beauty and sensitivity of his work can be seen by typing his name into Google Images.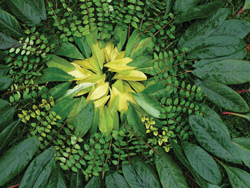 Getting inspired
Andy Goldsworthy is very sensitive to nature and the seasons. Children should experience the forces of nature for themselves before they begin to create any outdoor pieces of art. They need to feel the wind, rain, sun and snow. Arrange to walk in the school grounds or visit a park in different weathers.
Invite the children to look at colours, shapes and textures in natural materials. Collect a variety of fallen materials including leaves, twigs, petals and stones, and ask the children to examine them carefully. Encourage them to appreciate the beauty in the way that rain drips from twigs or makes patterns in puddles, how frost disappears in the sun, mist blurs edges, and wind moves and changes things.
Handle the collection of gathered natural materials and add more items, such as sand, pebbles, shells, pine cones, natural twine and lengths of cane.
Show the children examples of Andy Goldsworthy's outdoor artwork, such as Rowan leaves and Hole or Iris Leaves with Rowan Berries (both available to view on Google Images). Explain that the children will be creating their own outdoor artwork, which they can photograph over a matter of days or weeks, as it is changed by the weather.
Either give children complete freedom to experiment or introduce a theme as a starting point, such as circles, spirals or lines. Tell the children that you are going to show them some possible starting points, but you want them to try out their own ideas. You could show them the slideshow to help them get started.
Log in to your account to read