Explore activities using lots of 2D shapes involving printing, painting, collage, modelling, cooking, clay and dough, songs and rhymes, and even seeks inspiration from famous artists such as Piet Mondrian and Paul Klee.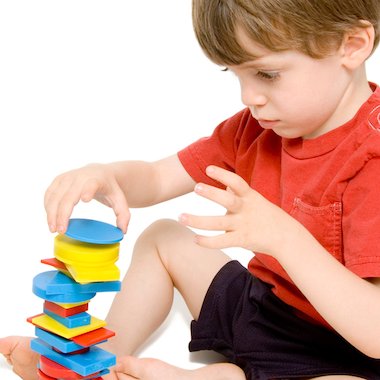 Shape hunt
This is a good starting activity for creative work on shapes. Talk to the children about being 'shape detectives'. Explain that they can choose one or more shapes to look for as they walk around the environment.
Give younger children a laminated example of their chosen shape to hold as they start their hunt. Older children can use clipboards and record how many different shapes they can find. Look inside and outside your setting. Take photographs of buildings or places showing lots of shapes. These can be displayed alongside artwork using shapes from later activities.
Printing with food
Help children to create printing shapes from potatoes. Halve the potatoes and carefully cut a circle shape to stick out from the flat surface. Make several different sizes. Let children place in a shallow tray of paint and print different coloured circles. Repeat with different shapes – rectangles, squares and triangles, cut into the potato halves.
Use different fruit and vegetables to create shapes. Cut carrots in half widthways and lengthways to create circles and rectangle prints. Use orange and lemon halves to create lots of circles. Can the children choose another fruit or vegetable to experiment with?
Spaghetti shapes
Provide children with lots of lengths of spaghetti to make different shapes. How many pieces will they need to make a square or a triangle? Ask them to use glue to stick the pasta down in the different shapes. This activity also works with art straws and also simply squeezing glue into shapes and adding glitter or coloured sand or powder paint.
Concentric circles
Cut across a log or branch of wood. Let the children look at the cross section of the wood. Point out the concentric circles all sitting inside each other. Explain that trees traditionally can be aged by counting the number of concentric circles! Provide children with lots of circle templates and ask them to sort them according to size. Help them to draw around the biggest circle using coloured felt pen and then the next biggest inside the first using a new colour. Repeat this process until the circle is full of circles!
Subscriber-only content
Scholastic Resource Bank: Early Years - subscribe today!
Over 2,000 early years resources, activity ideas and games
Perfect for anyone working or playing with children from 0 to 5 years old
Unlimited access – only £15 per year!
Subscribe
Already a subscriber? Sign in below.