Ideas and activities for Sport Relief
11 February 2008
Add to My Folder
This item has 2 stars
of a maximum 5
Rated 2/5 from 3 ratings (Write a review)
Lots of fun activities based on C-Beebies favourite 'LazyTown' characters to get the children moving and get them involved in this year's Sport Relief campaign
The Sportacus Warm up
Get your children ready for their challenge by warming up like Sportacus.
Resources: Floor area, imagination Outside or inside
In a circle and demonstrating each one, get them warmed up and with these special Sportacus moves:
Do 15 basketball shots. Jump as high as you can.
Do skipping rope for 30 seconds. Try it one one leg!
Let´s go skiing! Bend your knees. Let´s try the snowboard!
Let´s go swimming! Swing those arms!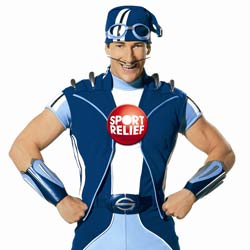 Splash-a-ball – throwing activity to develop coordination.
Resources: Plastic containers and balls. Outside only! For small groups
With his Rainmaker 3000, Robbie Rotten made it rain for 3 days in LazyTown. Everything is full of water. Your children can help the kids in LazyTown to empty all the buckets (containers) by making a big splash!
Place a number of water filled containers about 2metres from a throwing line.
The containers should be close enough to enable children to hit them.
Throw balls or other waterproof items into the containers to make as big a splash as possible.
See if the students can nearly empty at least one of the containers.
Log in to your account to read