Fiona Hickinbottom reviews a selection of books ideal for young children.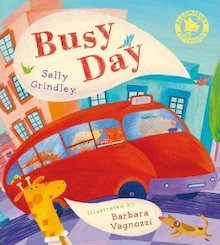 Busy Day by Sally Grindley, illustrated by Barbara Vagnozzi (Bloomsbury, £5.99 PB)
Busy Day is a delightfully illustrated picture book about five friends who go on a bus journey to the beach and is suitable for very young children.
The title page introduces the five friends and the bus driver – all different animals – with a picture and their name underneath. My children enjoyed referring back to this page when we couldn't quite remember which character was which!
The simple but lively rhyming text compliments the colourful pictures and was especially enjoyed by two year old Sophie whose response at the end of the book was 'more!'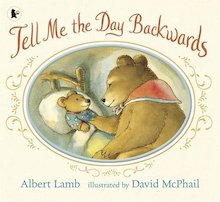 Tell Me the Day Backwards by Albert Lamb, illustrated by David McPhail (Walker, £11.99 PB)
Tell Me the Day Backwards is about little Timmy Bear and Mama Bear as they remember Timmy's rather eventful day – which includes falling into a deep pool and running away from bees! Five year old Daniel and four year old Lucy especially liked the picture of the bears eating ants for breakfast!
Log in to your account to read