Original article published on 03 Sept 2010
Make the Muslim festival of Eid-ul-Fitr meaningful for all children by incorporating green and ethical issues
The festival of Eid-ul-Fitr ends the month of Ramadan. If you're stuck for ideas on how to make the Muslim festival meaningful for all children, take the current trends of a green and ethical Eid into the classroom.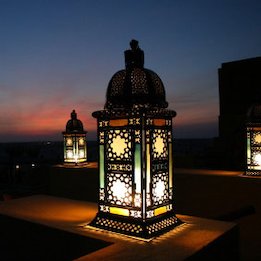 Reflecting the month
Eid-ul-Fitr literally means 'the festival of breaking the fast'. Like any celebration, it can easily take the highway of excess consumption; eating too much and general waste – hardly what the month of Ramadan was about. Muslims across the world have spent thirty days abstaining from food and drink during daylight hours, reflecting on their character and reconnecting with the message of the Qur'an in long prayer sessions during the night. Likewise, thinking of those in need is a central feature of the month. Children get involved in fundraising and are encouraged to think about how people less fortunate feel. Those people who are fasting make every effort to be charitable: visiting someone ill, donating groceries to a local homeless shelter, or fundraising for victims of a flood or earthquake.
Charity check-up
Leading up to Eid day, each family must make a special donation to ensure those in need have something to celebrate the day too; this is called 'Zakat ul Fitr.' This donation must be given before the Eid prayers. Families pay approximately £4 per person to a charity that will hand out food items in time for the Eid celebration. Traditionally, grains such as barley, wheat and rice are distributed by charities during the month. Here are some ideas for charity activities:
Eid-ul-Fitr mind mapHow many ways can you think about other people? Put the words 'Eid ul Fitr' in the centre of a large sheet of paper and have the following branches coming out: thinking about others at school; thinking about our families; caring for neighbours; helping people in our community; helping people far away, with blank branches coming off these for children to fill in more details.
The Ramadan Fanous lantern – Fanous lanterns are traditional brightly decorated lanterns used in homes and shops in Egypt throughout the month of Ramadan. Create lanterns based on the photo above – and then you can add an extra feature. When the lanterns are made, cut a slit at the top and turn these into penny collection boxes. Ask children to take the lanterns home to collect pennies for a week and chose a charity to send their donation to.
Subscriber-only content
Scholastic Resource Bank: Primary - subscribe today!
Over 6,000 primary activities, lesson ideas and resources
Perfect for anyone working with children from 5 to 11 years old
Unlimited access – only £15 per year!
Subscribe
Already a subscriber? Sign in below.