Involving children in role play will urge them to think about what it's like to be on the receiving end of bad behaviour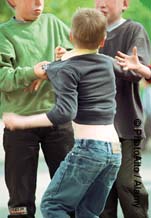 All children should know that violence does not solve anything
In our society, children are exposed to images of aggression from an increasingly early age. They come across these images on the television, through their toys, in computer games and in the world around them. While schools strive for non-violent behaviour, there is no denying that violent imagery can be attractive to young people, perhaps particularly so to boys. Action hero toys introduce children to the idea of heroes and villains 'fighting it out' to achieve success, and many are exposed to excessive amounts of violent imagery, for instance in computer games designed for adults rather than children. (An independent review, requested by the Prime Minister, by clinical psychologist Dr Tanya Byron on the effects of video games on children, will be made in March 2008.)
The majority of children understand that violent behaviour is unacceptable in school; that it has no place in a civilised community or society. They realise that aggressive acts will be met with an appropriate sanction. However, there are some children who find it impossible to control their impulses, and who will lash out at classmates or staff, regardless of the consequences. These children might have learned from confrontational and aggressive role models in the home or from influences outside the school gates.
1 Conflicting views
When the message coming from 'home' is at odds with what the school or teacher asks, this is very confusing for children. Some parents will advise their children to 'fight back' if they are hit, while the school will advocate a non-violent approach. Changing children's behaviour and attitudes requires a long-term approach and should be a whole-school policy. We need to encourage children to think about ways of handling their anger, and of resolving problems, without resorting to violence.
2 Handling violent behaviour
If one of the children exhibits violent behaviour, take the following steps:
Ensure the safety of the victim. If possible, ask another member of staff to handle them while you deal with the aggressor.
If the violence has been directed at you, take some time to calm yourself down before you deal with the situation, perhaps sending the child to a senior member of staff.
If you are in a whole-class teaching situation, settle the class to work and take the child to one side to talk in private.
Calm the child down by speaking in a flat tone and low volume.
Make a statement to the child about the behaviour: You know that hitting is not acceptable behaviour.
Encourage the aggressor to understand and empathise with the victim's feelings: How do you think it feels when …?
Make it clear what the appropriate sanction will be, following your school policy: The sanction for hitting is…
Member-only content
Scholastic Resource Bank: Primary - join today!
Over 6,000 primary activities, lesson ideas and resources
Perfect for anyone working with children from 5 to 11 years old
Unlimited access from just £1.25 per month
Join now
Already a member? Sign in below.