Elephant Wellyphant is the title of Nick Sharratt's latest picture book. It's just adorable and young fans will be delighted with it, says Lesley Sudlow. She chats to Nick about his life as a well-loved author and illustrator
Nick Sharatt studied at St Martin's School of Art in London and has worked as an illustrator ever since. Eating is Nick Sharratt's favourite pastime and food often crops up in his work, including Don't Put Your Finger in the Jelly Nelly!, I Went to the Zoopermarket and Ketchup on Your Cornflakes? Nick has won many book awards for his wonderful colourful tales.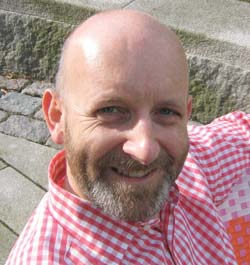 Nick Sharratt, author of Elephant Wellyphant
LS What or who inspired you to write and illustrate books for young children?
NS As a child I loved picture books, especially those by Michael Foreman, David McKee and Quentin Blake, and I knew that this was something I'd like to do one day. Although I wasn't from an artistic background, my parents encouraged me. They provided plenty of paper and art materials for me to experiment with. From an early age I remember making pictures.
Log in to your account to read