Grab your sunglasses and explore the sounds of the seaside using our onscreen activity and cross-curricular ideas
Learning to listen and identify sounds is central to early language development. To develop good phonological awareness, children need to be able to listen attentively to the sounds they hear around them.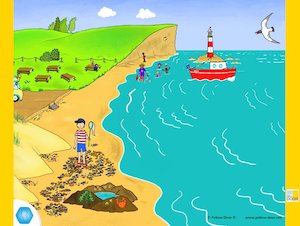 The 'Explore the seaside' interactive resource from Yellow Door's Come Alive Listening series allows you to explore seaside sounds – we have a free sample for you to use with your class. With the Sun shining outside, you can build on children's interests, while providing an inclusive multisensory way to reinforce key listening skills for those needing support with Letters and Sounds Phase 1.
A virtual visit to the seaside
Play the Interactive resource , 'Explore the seaside'. You could use the picture of the seaside scene to discuss the setting and help children to relate it to places they have visited.
You may wish to talk about what the children can see by asking what sort of place it is and whether they have ever been to a place like this. If they were at the seaside, what might they be able to hear around them? What can they see in the picture that will make a noise? What noises do they think these things will make? Can the children make a noise like that themselves?
You could also discuss what time of year it is (summer) and talk about other things that might make a noise at the seaside, such as the wind or children playing.
Log in to your account to read