Many of us think of ICT as computers, but if you look around your setting there's a plethora of ICT resources and toys that children can explore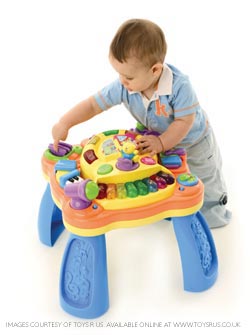 The use of ICT is all around us. Microwaves, remote controls, pedestrian crossings, mobile phones, cash machines and scanners – the list is endless. We take these items for granted, but their uses provide children with ready-made learning opportunities; whether they see adults using them; use them safely themselves under supervision; or use realistic battery-operated toys during role play.
Welcome to the world of
ICT
ICT can play an important role in children's development from an early age. The very youngest babies' senses are stimulated by the movements and music of cot mobiles; light shows that are projected on to the ceiling; or play mats that light up or play sounds when they are touched or kicked.
When babies can sit up, they are able to access a wider wonderland of ICT experiences, gaining independence as they learn that if they press a button or certain part of a toy, they can make something happen – whether it is producing a sound, making something move or making a light flash. The range of toys available is overwhelming, from 'noisy' jigsaws, soft toys with sound effects and interactive storybooks, to items such as a steering wheel complete with car sound effects.
Toddlers are enticed to take their first steps and explore the world as they push walkers that play sounds, with flashing lights and textured surfaces. As they become more mobile, they may be fascinated by musical mats or push- and pull-along toys complete with sounds, voices, songs and coloured lights, all at the touch of a button.
As children become more independent inside and outside the setting, the world of ICT enhances their discovery of the world around them. For example, when children are enjoying water play and blowing bubbles, the introduction of an inexpensive bubble machine adds a new dimension to their play. When they have made a den, their play can be extended by introducing headlamps and coloured torches.
Using ICT resources in role play brings the adult world to life for young children. Resources with realistic sound effects, such as battery-operated toy hammer drills, screwdrivers and jigsaws take the scope for play as construction workers to a new level. A metal detector and set of walkie-talkies encourage action, discovery and talk. Playing shops becomes real when using a cash register, scanner and chip-and-PIN machine. The use of simple remote-controlled cars encourages the development of language, problem solving and dexterity.
Subscriber-only content
Scholastic Resource Bank: Early Years - subscribe today!
Over 2,000 early years resources, activity ideas and games
Perfect for anyone working or playing with children from 0 to 5 years old
Unlimited access – only £15 per year!
Subscribe
Already a subscriber? Sign in below.